Advertising on this Site
History-for-kids.com has been educating and entertaining children, parents, and teachers since 2009.
Traffic on the site continues to grow.  2015 figures are currently 20% higher than the corresponding 2014 figures, and we expect traffic to reach 100,000 page views per month this year.  Traffic is seasonal, with fewer visitors during the summer months, and at Christmas, when schools are on holiday.
We welcome advertisers from family-friendly and reputable organisations.  Please note however that we will only consider placing adverts if the link on the advert is of the "no follow" type.
Our rates are as shown below.  Payments are quarterly and in advance. If there is a format not covered in the list, please let us know and we will provide a quote.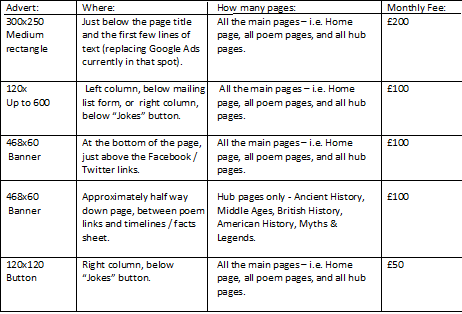 If you would like to discuss this further, please let us know.