Julia Donaldson Interview

Julia Donaldson is an English writer, most famous for her excellent children's books, such as The Gruffalo, Room on the Broom, The Snail and the Whale, Tiddler, and (my son's favourite ever book) A Squash and a Squeeze. Julia Donaldson writes story poems that are fun for the children, and also the parents.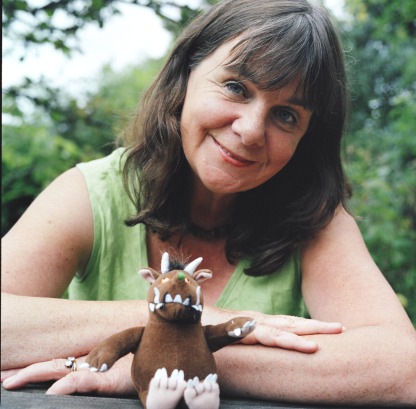 Hfk: Thank you very much Julia, for agreeing to speak to history-for-kids. Do you have an interest in history?

Julia Donaldson: History was always one of my absolutely favourite subjects at school, and I did it for A-level. Between school and university I even started writing a book about the 17th-Century Lady Aubigny who was very active during the Civil War, smuggling letters to and from Charles I concealed in her wig! (I never finished that book, but who knows, I might re-embark on it one day.)

Hfk: Have you ever written a historical story-poem?

JD: I have written a song based on a historical event: it's called The Ballad of Jemmy Button and tells the true story of a 16-year-old boy who was bought by the Captain of The Beagle (during the famous voyage when Darwin was aboard), taken to England to be educated and then re-released in his native land - an experiment which went very wrong. (I have recorded the song on a privately-made CD called "Second Fourteen", which features on my website.)

Hfk: Which poets/children's writers influenced you?

JD: Edward Lear, A.A. Milne, Lewis Carroll, Eleanor Farjeon - and Shakespeare!

Hfk: How do you come up with rhymes?

JD: In order for rhymes not to be contrived and stilted, I often have to try out lots of different ways of saying what I want to say, varying the last word so that I can find the most natural rhyme.

Hfk: Have you ever changed a story because you thought of a great rhyme you wanted to use?

JD: I don't think I've ever changed a story radically to suit a rhyme, but they do have an influence - for instance, if "black" didn't rhyme with "back" then the Gruffalo's tongue might be a different colour. And if "snail" didn't rhyme with "whale" then maybe (in The Snail and the Whale) the Whale would be giving a ride to a different small creature.

Hfk: I noticed that sometimes you use iambic pentameter (e.g. in bits of the Gruffalo), and I wondered how strict you are with yourself regarding meter?

JD: I am more strict about the musical rhythm than about a strict meter such as iambic pentameters. I'm thinking of the number of beats in a bar - which could be a mixture of crotchets, quavers, triplets or whatever. This is partly because I was a songwriter long before I turned my hand to books.

Hfk: Do you have a favourite line or couplet that you have written?

JD: I like the ending of The Snail and the Whale:

And they sang to the sea as they all set sail
On the tail of the grey-blue humpback whale.

And I'm quite pleased with the section in my new book Tabby McTat which describes all his "Things to Do"

Like washing Prunella and pouncing on Pat
And hiding the car keys under the mat
And keeping the newpapers nice and flat
And giving the pens an occasional bat
And nibbling this, and nibbing that

Hfk: What are you working on at the moment?

JD: I'm planning some events based on my teenage novel "Running on the Cracks". And I'm working on a new picture book about dragons.

Hfk: Julia Donaldson, thank you very much for your time.