Katie the pioneer
by Katie
(Toronto, ON, Canada)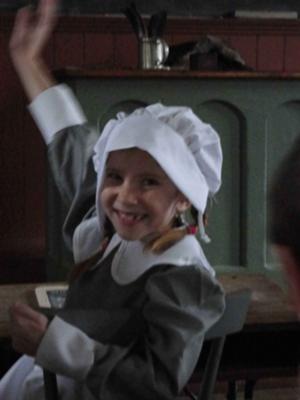 Please miss, pick me!
Katie went on a school trip to Black Creek Pioneer Village in Toronto. Her class were all dressed as pioneers and were there for 3 days. They had lessons in the old school house and went on apprenticeships to the printer's, weaver's, doctor's, blacksmith's and cabinet maker's. They received mail from friends and family at the post office, learned about Scottish Hogmannay traditions in the parlor and wrote with dip pen and ink at the manse. Thank you to her Uncle Stephen for buying the costume for her birthday!
Join in and write your own page! It's easy to do. How? Simply click here to return to Invitation - Gallery.