Queen Elizabeth I
by Emma Hawkins
(Georgetown, ON, Canada)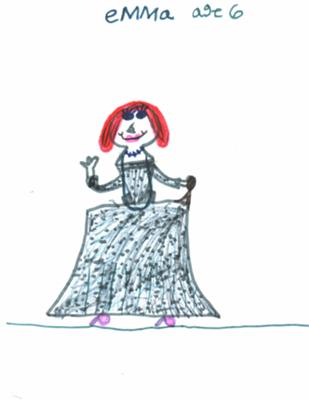 Emma likes to draw and colour with her friends. Like all little girls, they like princesses and pretty dresses, so Elizabeth I interested them. A good way to combine their interest in fashion with history!

**************************

ELIZABETH I -
A POEM BY ELEANOR AND HERBERY FARJEON:

Hail, Queen Elizabeth! Here comes Queen Bess
In a very big ruff and a very wide dress;
Her hair it is red, and her eyes they are green,
And England has prospered since Bess became Queen.

The boldest of sailors have sailed to the West,
The greatest of poets have written their best,
The gayest of people have danced on the green,
And England's grown merry since Bess became Queen.

She's vain as a peacock that opens its tail,
She's proud as an eagle that weathers the gale,
She's crafty and jealous, suspicious and mean,
But England is England now Bess is the Queen.