Goodrich Castle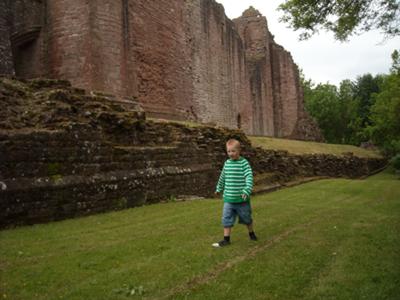 Goodrich Castle
This is what you want from a castle! Ruined, but not too ruined, lots of nooks and crannies you can explore, towers to climb, and big open spaces for the kids to run around. I love this place. I love most of the English Heritage sites actually - they do a good job looking after things.

This is Jamie running round what was once the moat - he did three laps, and said he was swimming.

If I hadn't been chasing after Jamie, I might have enjoyed the audio tour more. There was a big cannon there called Roaring Meg which was something to do with the Civil War, but I never got to find out because I had to stop Jamie trying to dismantle the sign-post. Maybe next time.
Join in and write your own page! It's easy to do. How? Simply click here to return to Invitation - Gallery.